The minimum order quantity (MOQ)is the lowest amount of stock a supplier is willing to sell. If you can't buy the MOQ of a certain product, then the supplier won't sell it to you.
All MOQ varies, depending on the product.
High-demand goods that are more expensive to produce will usually have a lower MOQ than low-priced goods that are easy and cheap to produce.
If you're a buyer, we'll show you how to navigate the MOQ later in this post.
If you're a supplier, let's see how it can benefit your business.
The MOQ requirement may seem bad when you are on the buying side but great when you are on the selling side.
Many businesses work with manufacturers who have minimum order quantity requirements, and some brands will be in a position to enforce their own MOQ through wholesale partnerships or minimum spend thresholds.
Wherever you are, here are some tips on how to work with MOQs.
Incentivize higher spend on your orders
If your business is wholesale or retail. You can request a MOQ for bulk buyers to help ensure the retailer pays you the minimum amount.
In exchange for the minimum spend, you can choose to offer a volume discount, where you charge the retailer less per unit in exchange for a higher guaranteed overall spend.
Keep in mind that you're trying to find a long-term relationship with a retailer — and just because someone wants the best terms doesn't necessarily mean it's going to be worth it.
Similarly, you can test this strategy for direct-to-consumer orders by requesting a minimum number of products to sell (for example, 3 bottles of drinks priced at 10,000 each to ensure your order value is at least 30,000) to cover the customer's cost and cost of goods sold.
You can also try this with a free shipping minimum spend threshold, where you require the customer to spend a certain amount of money to qualify for free shipping.
Eliminate slow moving SKUs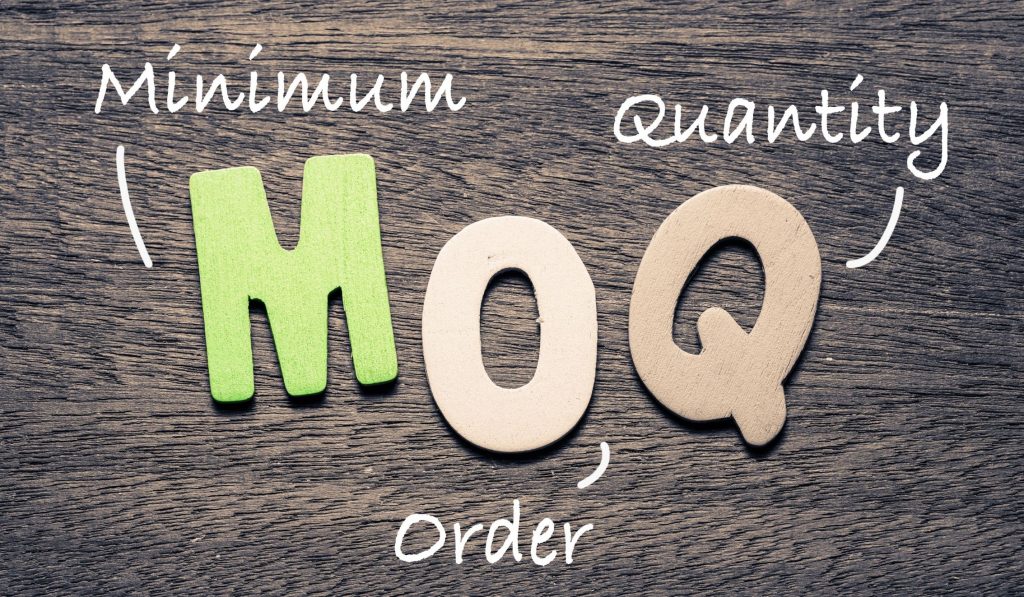 Often, brands will have more SKUs than they should, and they'll be stuck paying for storage and handing out cash to meet MOQs for products that don't sell or drive revenue.
Keeping your SKU count simple and minimal helps with inventory forecasting.
The difference between 20 and 40 SKUs can be quite difficult to manage, let alone managing up to 400 SKUs. It's easy to overestimate the use of new colors and slight variations in products.
Increase inventory turnover
Ordering excess inventory will encourage you to have a higher inventory turnover rate, which means there's pressure to sell your inventory faster because you're investing more money up front.
This doesn't mean just running flash sales to clear inventory but looking for creative ways to attract and retain customers.
If the minimum order quantity is too high and you haven't proven your business model or product market fit, it's best to look elsewhere.
Otherwise, you will end up spending too much money that you may not be able to recover, while also paying for warehousing.
Find another supplier or distributor
If your manufacturer has a higher MOQ than you want, you can always try to negotiate with them. There's no harm in trying!
If the manufacturer doesn't budge and still needs a MOQ that's too high for you, consider working with a trading company or wholesale distributor, an intermediary who buys bulk from the manufacturer and resells smaller quantities to others.
Check other options
You are allowed to be creative in your conversations with manufacturers and suppliers. Try repeating the question or thinking outside the box:
See if the manufacturer will allow you to 'mix' or order several different products to reach the MOQ, not just identical units.
Ask manufacturers if they have leftovers from other customers who have canceled orders and thus, don't require them to manufacture anything from scratch.
Focus on relationship
It is possible to start with a good relationship with the manufacturer, but it gets easier over time especially when you build a good relationship with them.
Here's how it works:
You sell your vision to a manufacturer and get it bought.
Your business continues to grow.
Your partner manufacturers are happy that they continue to make money alongside your growth.
You pay them on time and order more from them.
Over time, they may offer better and more flexible terms with you.